I received a complimentary copy of the book from the Author in exchange for an honest review. This does not affect my opinion of the book or the content of my review.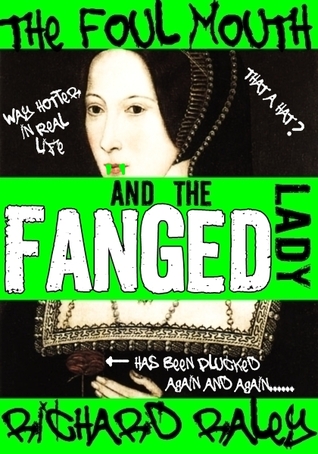 The Foul Mouth and the Fanged Lady
by Richard Raley
Series: King Henry Tapes #1
Published by Self-Published on August 29, 2011
Genres: Urban Fantasy
Pages: 271
Format: eBook
Amazon Kindle
Goodreads


My Review Continue reading →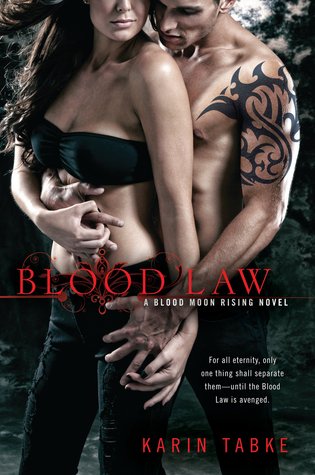 Blood Law
by Karin Tabke
Series: Blood Moon Rising Trilogy #1
Published by Berkley on May 3rd 2011
Pages: 323
Format: eBook
Source: Purchased
Amazon Kindle | Amazon Paperback
Goodreads


For all eternity, only one thing shall separate them—until the Blood Law is avenged…
The coming of the Blood Moon will lead two Lycan packs into war, spur two rival brothers into conflict, and spark an act of vengeance so evil that its effects will be felt for generations.
One woman stands at the center of it all.
As undisputed Alpha, Rafael must choose a life mate to preserve the dominance of his Lycan pack. He never suspected, his mate would be a human, the same wounded, girl-woman he seduces from the brink of death. Falon is a dangerous combination of Lycan and Slayer—beings bred to destroy his kind. Even more, she's a mesmerizing beauty whose sensuality tempts the seasoned warrior to take unnecessary risks. The primal heat between them is irresistible, yet surrendering to it could destroy them both…for a vengeful foe stands ready in the shadows to fulfill what is rightfully his by Blood Law.
My Review: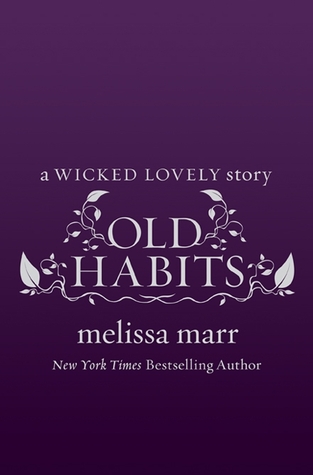 Old Habits
by Melissa Marr
Series: Wicked Lovely #2.6
Published by HarperCollins on January 11th 2011
Pages: 81
Format: eBook
Source: Purchased
Amazon Kindle | Amazon Paperback
Goodreads


Melissa Marr returns to the ravishing world of Faerie with a story set between her bestselling novels Ink Exchange and Fragile Eternity.
Recently anointed king of the Dark Court, Niall struggles to forge a new relationship with his subjects—and with the former Dark King, Irial, his once-friend, once-enemy, and now possible-advisor.
My Review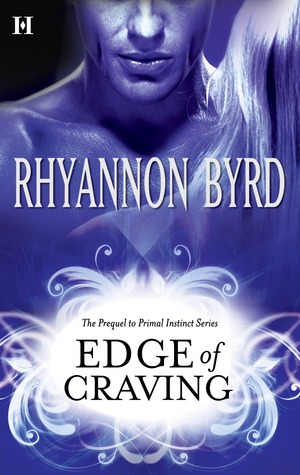 Edge of Craving
by Rhyannon Byrd
Series: Primal Instinct #0.5
Published by Harlequin Books on April 1st 2009
Genres: Paranormal Romance
Format: eBook
Source: Purchased
Amazon Kindle | Amazon Paperback
Goodreads


Since the moment he'd first laid eyes on Alia Buchanan, the warrior known only as Rhys had been obsessed with her. She consumed his waking moments. Tormented his dreams. But, as one of the few remaining descendants of a European dragon clan, Rhys knew there could never be a future for a monster like him...with an angel like Alia. Until her father is murdered and Alia's life is in mortal danger. Now, Alia and Rhys must unite to find some ancient crosses that hold an unknown power before their enemies do. And once those are in hand, Rhys must figure out what to do with them...and his forbidden attraction to the women he'd sworn to protect.
"An eBook exclusive prequel to Rhyannon Byrd's Primal Instinct trilogy!"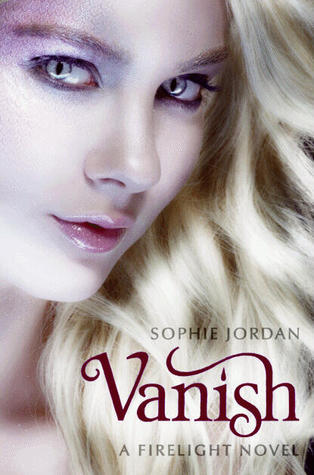 Vanish
by Sophie Jordan
Series: Firelight #2
Published by HarperTeen on September 6th 2011
Pages: 294
Format: eBook
Source: Purchased
Amazon Kindle | Amazon Paperback
Goodreads


An impossible romance.Bitter rivalries.Deadly choices.
To save the life of the boy she loves, Jacinda did the unthinkable: She betrayed the most closely-guarded secret of her kind. Now she must return to the protection of her pride knowing she might never see Will again—and worse, that because his mind has been shaded, Will's memories of that fateful night and why she had to flee are gone.
Back home, Jacinda is greeted with hostility and must work to prove her loyalty for both her sake and her family's. Among the few who will even talk to her are Cassian, the pride's heir apparent who has always wanted her, and her sister, Tamra, who has been forever changed by a twist of fate. Jacinda knows that she should forget Will and move on—that if he managed to remember and keep his promise to find her, it would only endanger them both. Yet she clings to the hope that someday they will be together again. When the chance arrives to follow her heart, will she risk everything for love?
My Review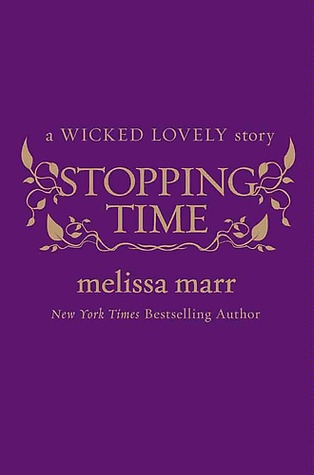 Stopping Time
by Melissa Marr
Series: Wicked Lovely #2.5
Published by HarperCollins Publishers on April 23rd 2010
Pages: 36
Format: eBook
Source: Purchased
Amazon Kindle | Amazon Paperback
Goodreads


An exciting e-story original sequel to Ink Exchange!

Leslie walked away from the Dark Court, determined to reclaim her life and live it on her own terms-even if it meant leaving behind the two faeries who love her. She knows Niall and Irial watch over her, and she would give almost anything to keep them from hurting. But she resists the pull to be with either one of them.

Someone knows about Leslie-s past, however, and is intent on using her to reach the fey. And he doesn't care who gets hurt.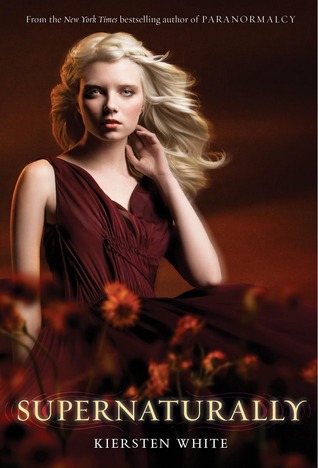 Supernaturally
by Kiersten White
Series: Paranormalcy #2
Published by HarperTeen on July 26th 2011
Pages: 336
Format: eBook
Source: Purchased
Amazon Kindle | Amazon Paperback
Goodreads


Evie finally has the normal life she's always longed for. But she's shocked to discover that being ordinary can be...kind of boring. Just when Evie starts to long for her days at the International Paranormal Containment Agency, she's given a chance to work for them again. Desperate for a break from all the normalcy, she agrees.
But as one disastrous mission leads to another, Evie starts to wonder if she made the right choice. And when Evie's faerie ex-boyfriend Reth appears with devastating revelations about her past, she discovers that there's a battle brewing between the faerie courts that could throw the whole supernatural world into chaos. The prize in question? Evie herself.
So much for normal.
My Review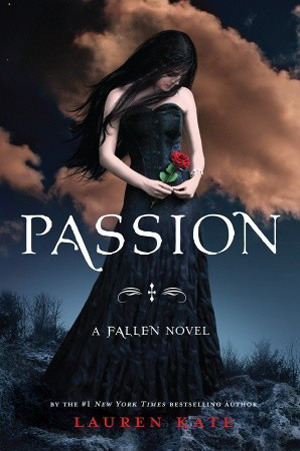 Passion
by Lauren Kate
Series: Fallen #3
Published by Delacorte Press on June 14th 2011
Pages: 420
Format: eBook
Source: Purchased
Amazon Kindle | Amazon Paperback
Goodreads


'Every single lifetime, I'll choose you. Just as you have chosen me. Forever.'
Luce would die for Daniel. And she has. Over and over again. Throughout time, Luce and Daniel have found each other, only to be painfully torn apart: Luce dead, Daniel left broken and alone. But perhaps it doesn't need to be that way . . . Luce is certain that something – or someone – in a past life can help her in her present one. So she begins the most important journey of this lifetime . . . going back eternities to witness firsthand her romances with Daniel . . . and finally unlock the key to making their love last.Cam and the legions of angels and Outcasts are desperate to catch Luce, but none are as frantic as Daniel. He chases Luce through their shared pasts, terrified of what might happen if she rewrites history. Because their romance for the ages could go up in flames . . . forever.
My Review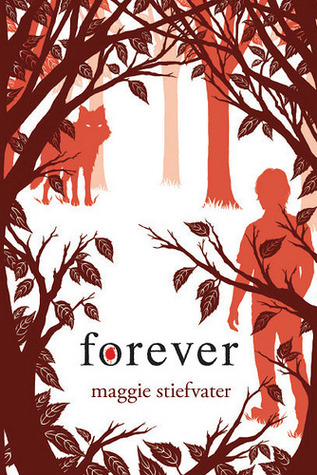 Forever
by Maggie Stiefvater
Series: The Wolves of Mercy Falls #3
Published by Scholastic Press on July 12th 2011
Pages: 388
Format: eBook
Source: Purchased
Amazon Kindle | Amazon Paperback
Goodreads


then.When Sam met Grace, he was a wolf and she was a girl. Eventually he found a way to become a boy, and their loved moved from curious distance to the intense closeness of shared lives.
now.That should have been the end of their story. But Grace was not meant to stay human. Now she is the wolf. And the wolves of Mercy Falls are about to be killed in one final, spectacular hunt.
forever.Sam would do anything for Grace. But can one boy and one love really change a hostile, predatory world? The past, the present, and the future are about to collide in one pure moment--a moment of death or life, farewell or forever.
My Review
Wolfsbane
by Andrea Cremer
Series: Nightshade #2, Nightshade World #5
Published by Philomel Books on July 26th 2011
Pages: 390
Format: eBook
Source: Purchased
Amazon Kindle | Amazon Paperback
Goodreads


Calla Tor wakes up in the lair of the Searchers, her sworn enemy, and she's certain her days are numbered. But then the Searchers make her an offer–one that gives her the chance to destroy her former masters and save the pack–and the man–she left behind. Is Ren worth the price of her freedom? And will Shay stand by her side no matter what? Now in control of her own destiny, Calla must decide which battles are worth fighting and how many trials true love can endure and still survive.
My Review