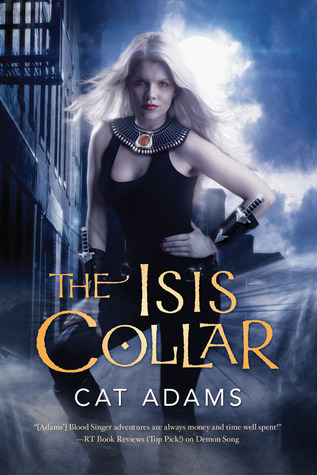 The Isis Collar
by Cat Adams
Series: Blood Singer #4
Published by Tor Books on March 13th 2012
Genres: Urban Fantasy
Pages: 384
Format: Paperback
Source: Library
Amazon Kindle | Amazon Paperback
Goodreads


A clairvoyant's vision sends Celia racing to evacuate a local elementary school before a concealed magical bomb goes off. She gets almost everyone out but is caught in the explosion!
Amazingly, the bomb seems to cause no damage…until two weeks later, when a stubborn bruise on Celia's leg turns out to be the first sign of a magical zombie plague. Schoolchildren and their parents are the next victims. The cure is both painful and in extremely short supply.
Worse, it soon becomes clear that there are more explosions to come. But helping the FBI track down the bomber isn't Celia's only problem. Her abusive, alcoholic mother has broken out of prison on the Sirens' island; her ghostly little sister has possessed a young girl; and one of Celia's boyfriends has mysteriously disappeared in the middle of a casting.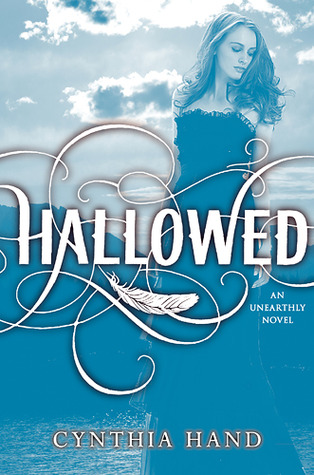 Hallowed
by Cynthia Hand
Series: Unearthly #2
Published by HarperTeen on January 17th 2012
Pages: 403
Format: Hardcover
Source: Library
Amazon Kindle | Amazon Paperback
Goodreads


For months Clara Gardner trained to face the fire from her visions, but she wasn't prepared for the choice she had to make that day. And in the aftermath, she discovered that nothing about being part angel is as straightforward as she thought.
Now, torn between her love for Tucker and her complicated feelings about the roles she and Christian seem destined to play in a world that is both dangerous and beautiful, Clara struggles with a shocking revelation: Someone she loves will die in a matter of months. With her future uncertain, the only thing Clara knows for sure is that the fire was just the beginning.
In this compelling sequel to Unearthly, Cynthia Hand captures the joy of first love, the anguish of loss, and the confusion of becoming who you are.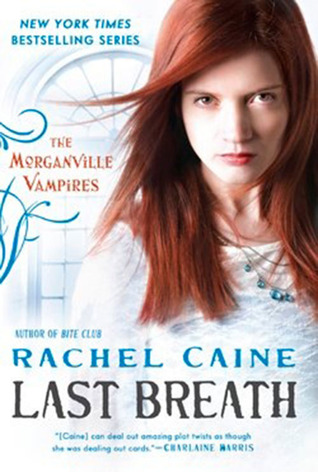 Last Breath
by Rachel Caine
Series: The Morganville Vampires #11
Published by NAL Hardcover on November 1, 2011
Pages: 335
Format: eBook
Source: Library
Amazon Kindle | Barnes & Noble
Goodreads


With her boss preoccupied researching the Founder Houses in Morganville, student Claire Danvers is left to her own devices when she learns that three vampires have vanished without a trace. She soon discovers that the last person seen with one of the missing vampires is someone new to town-a mysterious individual named Magnus. After an uneasy encounter with Morganville's latest resident, Claire is certain Magnus isn't merely human. But is he a vampire-or something else entirely?

Continue reading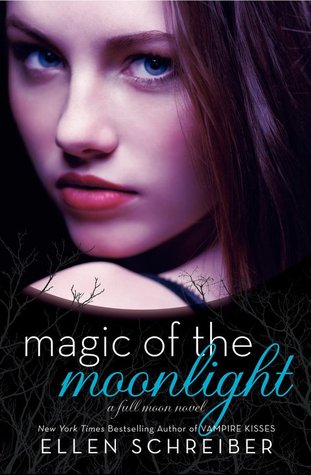 Magic of the Moonlight
by Ellen Schreiber
Series: Full Moon #2
Published by Katherine Tegen Books on December 27, 2011
Pages: 240
Format: Hardcover
Source: Library
Amazon Kindle | Amazon Paperback | Barnes & Noble
Goodreads


Beware of a bite under a full moon . . . It will complicate your love life.
Celeste has more to worry about than a secret romance with a hot guy from the wrong side of town. That guy, Brandon, is a werewolf. With gossip and hostility swirling at school, it's time to find a cure for his nocturnal condition, and perhaps the one person who can help is his scientist father. But what if a "cure" makes things worse and Brandon becomes a werewolf full time?
To keep Brandon's secret safe, Celeste must hide her relationship with him from her best friends, but with the Moonlight Ball approaching, she must make a choice. Her dream is to go with her one true love—Brandon. But once the sun goes down, the clouds separate, and the full moon appears, could she really walk into the dance on the arm of a werewolf?
In this installment of the sumptuously romantic Full Moon series, Celeste faces her fears and her friends and finds out whether she's strong enough to stand up for herself and her one true love.

Continue reading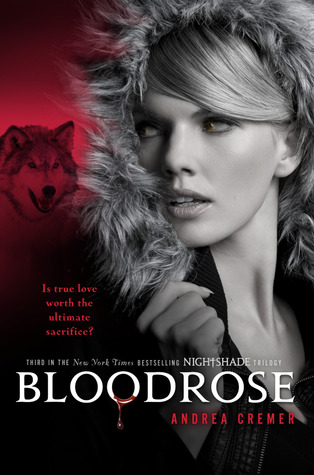 Bloodrose
by Andrea Cremer
Series: Nightshade #3, Nightshade World #6
Published by Philomel on January 3rd 2012
Pages: 406
Format: Paperback
Source: Library
Amazon Kindle | Amazon Paperback
Goodreads


Calla has always welcomed war.
But now that the final battle is upon her, there's more at stake than fighting. There's saving Ren, even if it incurs Shay's wrath. There's keeping Ansel safe, even if he's been branded a traitor. There's proving herself as the pack's alpha, facing unnamable horrors, and ridding the world of the Keepers' magic once and for all. And then there's deciding what to do when the war ends. If Calla makes it out alive, that is. In this remarkable final installment of the Nightshade trilogy, international bestselling author Andrea Cremer crafts a dynamic novel with twists and turns that will keep you breathless until its final pages.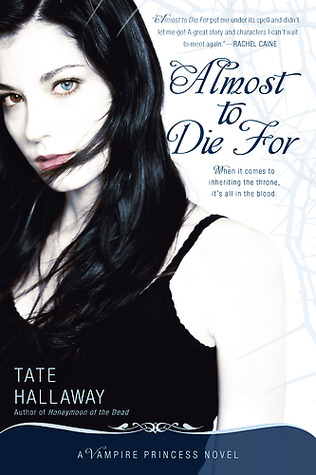 Almost to Die For
by Tate Hallaway
Series: Vampire Princess of St. Paul #1
Published by NAL on August 3rd, 2010
Pages: 241
Format: Paperback
Source: Library
Amazon Kindle | Amazon Paperback
Goodreads


On her sixteenth birthday, Anastasija Parker learns that her so-called deadbeat dad is actually a vampire king. And he wants Ana to assume her rightful position at his side, in spite of the fact that she has witch's blood running through her veins - from her mother's side.
Too bad witches and vampires are mortal enemies. And now Ana's parents are at each other's throats over her future. It's up to Ana to make a choice, but deciding your eternal destiny is a pretty big deal for a girl who just wants to get through high school.
 My Review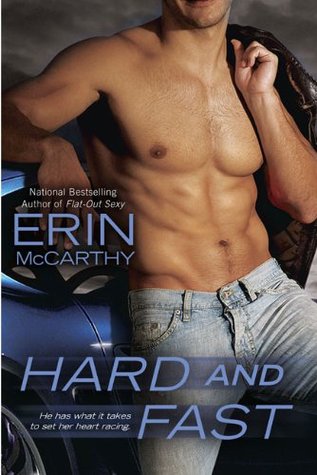 Hard and Fast
by Erin McCarthy
Series: Fast Track #2
Published by Berkley on May 5th 2009
Genres: Contemporary Romance
Pages: 304
Format: Paperback
Source: Library
Amazon Kindle | Amazon Paperback
Goodreads


The sequel to Flat-Out Sexy, starring a bad boy race car driver hero who's met his match-from a hot USA Today bestselling author.
Grad student Imogen Wilson realizes she's hit on the perfect thesis for her sociology degree. If she follows the so-called "rules" on how to get a man, can she steer her way into the world and hearts of stock race car drivers, and establish their dating- and mating-patterns?
Although sexy and reckless racer Ty McCordle is the ideal test subject, Imogen knows that for the sake of science, she can't give in to her growing attraction for him. Yet he's the one who's chasing after her, and Imogen realizes that she actually wants to be caught. A southern gentleman like Ty will satisfy all her curiosity-and make all the risks worthwhile...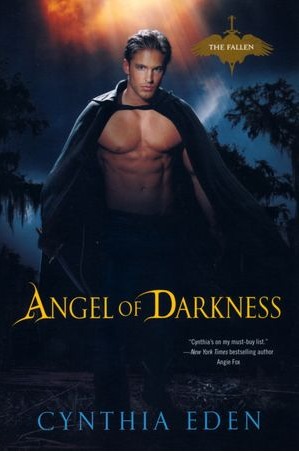 Angel of Darkness
by Cynthia Eden
Series: The Fallen #1
Published by Brava on November 29th 2011
Genres: Paranormal Romance
Pages: 305
Format: Paperback
Source: Library
Amazon Kindle | Amazon Paperback
Goodreads


As an angel of death, Keenan's job is to collect the souls on his list. He's carried out his duty for two thousand years and never faltered once. Until he meets Nicole St. James. When the moment of death comes, Keenan hesitates, and instead of taking Nicole, Keenan touches the vampire who's attacking her.
Cast out of heaven for disobedience, Keenan plummets to earth. Six months later, he finally manages to track Nicole to a bar in Mexico. He's stunned to discover that the woman he remembers has undergone a dramatic change—she's become a vampire. And when he realizes that she's the target of all manner of enemies—other vampires, demons, even shifters—he'll do whatever it takes to protect her, even if all hell breaks loose…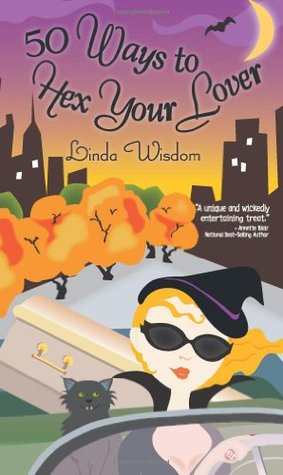 50 Ways to Hex Your Lover
by Linda Wisdom
Series: Hex #1
Published by Sourcebooks Inc on March 1st 2008
Genres: Paranormal Romance
Pages: 364
Format: eBook
Amazon Kindle | Amazon Paperback
Goodreads


Jazz can't decide whether to scorch him with a fireball or jump into bed with him.
Jasmine Tremaine, a witch who can't stay out of trouble.
Nikolai Gregorivich, a drop-dead gorgeous vampire cop on the trail of a serial killer.
The sizzling love affair between Jazz and Nick has been off-again, on-again-for about 300 years. Mostly off, lately. But now Nick needs Jazz's help, and while Jazz and Nick try to figure out their own hearts and resist their ever-increasing attraction, they must steer clear of a maniacal killer with super-supernatural powers. They are surrounded by a hilarious cast of oddball paranormal characters, including Irma, the chain-smoking ghost who haunts Jazz's sports car, Dweezil, her ghoul of a boss, and Fluff and Puff, a pair of bunny slippers with sharp teeth and short tempers (watch your ankles)!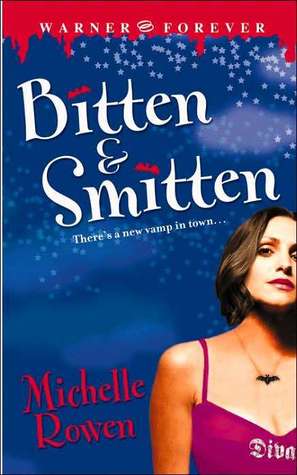 Bitten & Smitten
by Michelle Rowen
Series: Immortality Bites #1
Published by Warner Forever on January 1, 2006
Genres: Paranormal Romance
Pages: 369
Format: Paperback
Source: Library
Amazon Kindle | Amazon Paperback
Goodreads


Dear Mom,
I might be a wee bit late for Cousin Missy's wedding. It's been a tough week. Turns out, my blind date from hell was literally from hell. Guy bit me. Next thing I know, I'm being chased all over the city by vampire hunters. And did I mention that I got fired, too?
Bright side-I met a man. Thierry de Bennicoeur. How great is that name? Anyway, he's sexy, six-hundred years old, and a tad suicidal, but no one's perfect, right? And we have a deal-he's gonna show me the ropes of the vampire world, and I'm supposed to help him end his existence. Or maybe I'll just try to convince him life is worth living – no small challenge with the mostly immortal, let me tell you. I'll admit it's a complicated relationship. But with any luck, I just might have a date for that wedding after all…
Hugs and Kisses,
Sarah
My Review Continue reading →