FranJessca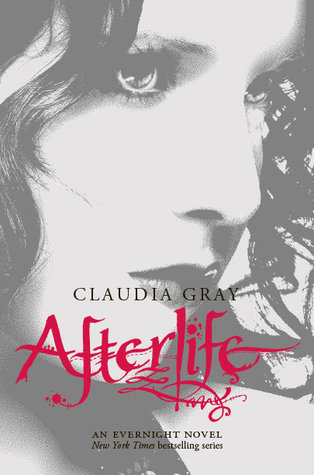 Afterlife
by
Claudia Gray
Published by
HarperTeen
on March 8th 2011
Pages:
360
Format:
Hardcover
Source:
Purchased
Amazon Kindle
|
Amazon Paperback
Goodreads

Bianca and Lucas have always believed they could endure anything to be together. When a twist of fate not only transforms Bianca into a wraith but also turns Lucas into a vampire—the very creature he spent his life hunting—they are left reeling.
Haunted by his powerful need to kill, Lucas can turn to only one place for help... Evernight Academy. Bianca is determined to remain with him. But with the vampire leader of Evernight waging a war against wraiths, her former home has become the most dangerous place she could be, despite the new powers her ghostly transformation has given her.
A battle between wraiths and vampires looms, and Bianca and Lucas face a terrifying new reality. They've overcome every obstacle life has thrown at them, but is their love strong enough to survive the challenges "after" life?
My Review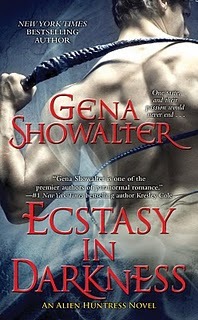 Ecstasy in Darkness
by
Gena Showalter
Series:
Alien Huntress #5
Published by
Pocket Star
on October 26th 2010
Genres:
Paranormal Romance
Pages:
502
Format:
Paperback
Source:
Purchased
Amazon Kindle
|
Amazon Paperback
Goodreads

Growing up poor on New Chicago's meanest streets, Ava Sans had two options: be the predator or be the prey. No contest. Now, working for Alien Investigation and Removal, she's been ordered to capture the biggest, baddest warrior of all—a vampire too beautiful to be real, with the ability to manipulate time. Once the leader of the entire vampire army, McKell has been deemed savage and unstable, spurned even by his own kind.
To McKell, humans should be nothing more than sustenance. Yet the petite, golden-skinned Ava is a fascinating contradiction—vicious yet witty, strong yet vulnerable, lethal but fiercely loyal. Against his better judgment, McKell craves that loyalty, and much more. When the chase leads to seduction, McKell and Ava will race to discover the truth about his past. But the answers will come at a price, even for a woman who thought she had nothing left to lose. . . .
My Review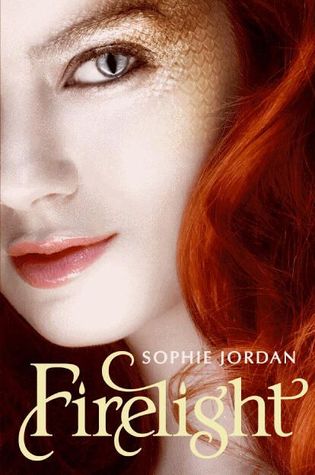 Firelight
by
Sophie Jordan
Series:
Firelight #1
Published by
HarperTeen
on September 7th 2010
Pages:
323
Format:
eBook
Source:
Purchased
Amazon Kindle
|
Amazon Paperback
Goodreads

A hidden truth. Mortal enemies. Doomed love.
Marked as special at an early age, Jacinda knows her every move is watched. But she longs for freedom to make her own choices. When she breaks the most sacred tenet among her kind, she nearly pays with her life. Until a beautiful stranger saves her. A stranger who was sent to hunt those like her. For Jacinda is a draki, a descendant of dragons whose greatest defense is her secret ability to shift into human form.
Forced to flee into the mortal world with her family, Jacinda struggles to adapt to her new surroundings. The only bright light is Will. Gorgeous, elusive Will who stirs her inner draki to life. Although she is irresistibly drawn to him, Jacinda knows Will's dark secret: He and his family are hunters. She should avoid him at all costs. But her inner draki is slowly slipping away;if it dies she will be left as a human forever. She'll do anything to prevent that. Even if it means getting closer to her most dangerous enemy.
Mythical powers and breathtaking romance ignite in this story of a girl who defies all expectations and whose love crosses an ancient divide.
My Review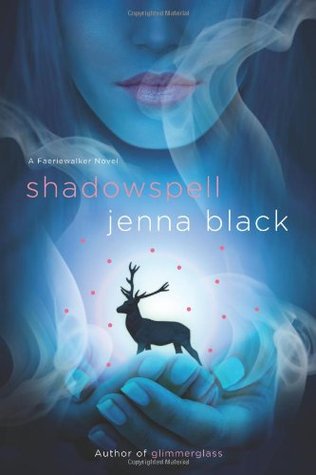 Shadowspell
by
Jenna Black
Series:
Faeriewalker #2
Published by
St. Martin's Press
on January 4th 2011
Pages:
295
Format:
eBook
Source:
Purchased
Amazon Kindle
|
Amazon Paperback
Goodreads

On top of spending most of her time in a bunker-like safe house and having her dates hijacked by a formidable Fae bodyguard, Faeriewalker Dana Hathaway is in for some more bad news: the Erlking and his pack of murderous minions known as the Wild Hunt have descended upon Avalon. With his homicidal appetite and immortal powers, the Erlking have long been the nightmare of the Fae realm.
A fragile treaty with the Faerie Queen, sealed with a mysterious spell, is the one thing that keeps him from hunting unchecked in Avalon, the only place on Earth where humans and Fae live together. Which means Dana's in trouble, since it's common knowledge that the Faerie Queen wants her—and her rare Faeriewalker powers—dead. The smoldering, sexy Erlking's got his sights set on Dana, but does he only seek to kill her, or does he have something much darker in mind?
My Review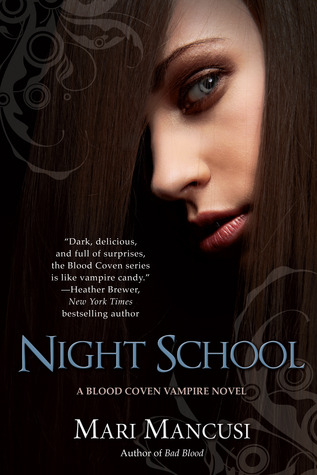 Night School
by
Mari Mancusi
Series:
Blood Coven Vampire #5
Published by
Berkley
on January 4th 2011
Pages:
256
Format:
Paperback
Source:
Purchased
Amazon Kindle
Goodreads

After their parents' shocking revelation about their fae heritage and an attack on their lives, the McDonald twins are forced to hide out deep in the Swiss Alps at Riverdale Academy, a secret vampire slayer training facility. And with no way to contact their vampire boyfriends for rescue, they're going to have to play nice with the locals.
But when Sunny starts acting strange, Rayne realizes that there's more to fear at Riverdale than getting staked by the student body-leading to a showdown in Fairyland that may cost the twins their lives.
My Review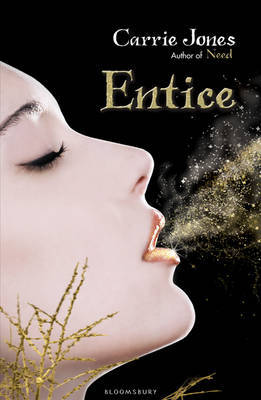 Entice
by
Carrie Jones
Series:
Need #3
Published by
Bloomsbury
on January 3rd 2011
Pages:
266
Format:
Hardcover
Source:
Purchased
Amazon Kindle
Goodreads

Zara and Nick are soul mates, meant to be together for ever. But that's not quite how things have worked out. For starters, Nick has gone. He has been taken to the mythical place for warriors known as Valhalla. Zara and her friends might be able to get him back, it's just not going to be easy. Meanwhile a group of evil pixies is devastating Bedford, with more teens going missing every day. An all-out war seems imminent, and the good guys need all the warriors they can find. But even if Zara and her friends do discover the route to Valhalla, there's that other small problem: Zara's been pixie kissed. When she finds Nick, will he even want to go with her? Especially since she hasn't turned into just any pixie... She's Astley's queen.
 My Review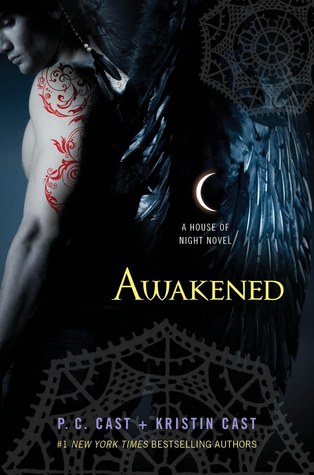 Awakened
by
P.C. Cast
,
Kristin Cast
Series:
House of Night #8
Published by
St. Martin's Griffin
on January 4th 2011
Pages:
290
Format:
Hardcover
Source:
Purchased
Amazon Kindle
|
Amazon Paperback
Goodreads

Exonerated by the Vampyre High Council and returned to her position of High Priestess at Tulsa's House of Night, Neferet has sworn vengeance on Zoey. Dominion over her immortal consort Kalona is only one of the weapons she plans to use against Z. But Zoey has found sanctuary on the Isle of Skye and is being groomed by Queen Sgiach to take over for her there. Being Queen would be cool, wouldn't it? Why should she return to Tulsa? After losing her human consort, Heath, she will never be the same – and her relationship with her super-hot-warrior, Stark, may never be the same either… And what about Stevie Rae and Rephaim? The Raven Mocker refuses to be used against Stevie Rae, but what choice does he have when no one in the entire world, including Zoey, would be okay with their relationship? Does he betray his father or his heart?
My Review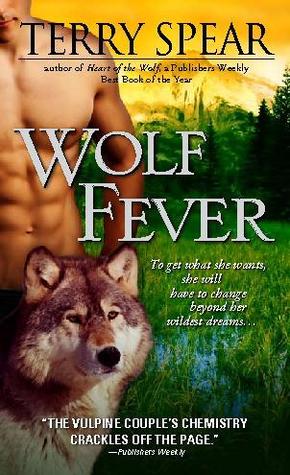 Wolf Fever
by
Terry Spear
Series:
Heart of the Wolf #6
Published by
Sourcebooks Casablanca
on December 1st 2010
Genres:
Paranormal Romance
Pages:
408
Format:
Paperback
Source:
Purchased
Amazon Kindle
|
Amazon Paperback
Goodreads

Fate turned nurse Carol Woods into a wolf, but she refuses to let being a lupus garou define her life. Ordered by her pack leader to find a mate and commit to shifting, there is only one gray wolf that catches Carol's interest; but Chaz McKinley makes it very clear that unless she's willing to accept what she is, he wants nothing to do with her. When a virus outbreak leaves local pack members trapped in their wolf form, will Chaz and Carol learn to trust each other before it's too late for the pack and their one chance at true love?
My Review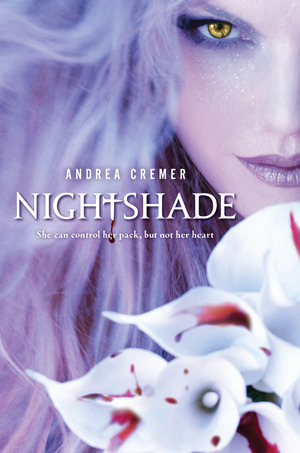 Nightshade
by
Andrea Cremer
Series:
Nightshade #1
,
Nightshade World #4
Published by
Philomel
on October 19th 2010
Pages:
452
Format:
eBook
Source:
Purchased
Amazon Kindle
|
Amazon Paperback
Goodreads

Calla Tor has always known her destiny: After graduating from the Mountain School, she'll be the mate of sexy alpha wolf Ren Laroche and fight with him, side by side, ruling their pack and guarding sacred sites for the Keepers. But when she violates her masters' laws by saving a beautiful human boy out for a hike, Calla begins to question her fate, her existence, and the very essence of the world she has known.
By following her heart, she might lose everything- including her own life. Is forbidden love worth the ultimate sacrifice?
"A finely-wrought compelling tale of romance and treachery..."-Cynthia Leitich Smith(New York Times bestselling author of Eternal and Tantalize)
My Review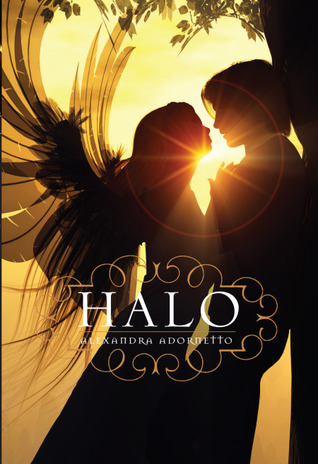 Halo
by
Alexandra Adornetto
Series:
Halo #1
Published by
Feiwel & Friends
on August 31st 2010
Pages:
485
Format:
eBook
Source:
Purchased
Amazon Kindle
|
Amazon Paperback
Goodreads

An angel is sent to Earth on a mission.But falling in love is not part of the plan.
Three angels – Gabriel, the warrior; Ivy, the healer; and Bethany, the youngest and most human – are sent by Heaven to bring good to a world falling under the influence of darkness. They work hard to conceal their luminous glow, superhuman powers, and, most dangerous of all, their wings, all the while avoiding all human attachments.
Then Bethany meets Xavier Woods, and neither of them is able to resist the attraction between them. Gabriel and Ivy do everything in their power to intervene, but the bond between Xavier and Bethany seems too strong.
The angel's mission is urgent, and dark forces are threatening. Will love ruin Bethany or save her?
My Review